How to Complain to Banking Ombudsman
Do do have a problem with the Bank.
Have you followed all the proper Bank procedure for filing complaints?
No response?
If you have got a response then make sure you have touched all levels of complaint redressal(including those of Nodal officers).
Before filing complaints please see if you fall in this:
You have not not approached his bank for redressal of his grievance first.
You have not made the complaint within one year from the date one has received the reply of the bank or if no reply is received if it is more than one year and one month from the date of representation to the bank.
The subject matter of the complaint is pending for disposal / has already been dealt with at any other forum like court of law, consumer court etc.
If you have not received a satisfactory reply then 30 days should have been over.
So finally if you above 3 points don't apply to you then you can go ahead and file your complaint to RBI Banking Ombudsman online.
How to send complaint to RBI Banking Ombudsman
There are two ways.
Either you send all the documents by Speedpost to Banking Ombudsman of your zone from this list.
Or fill your complaint online at https://secweb.rbi.org.in/BO/precompltindex.htm
Filling Complaints Online
It is the same dirty Indian government website. Just be ready to get a rough drive here. It is mainly prepared to drive away complaints from customers and reduce the workload of government officials.
Step-1: Unauthorized connection
Just ignore it and go to next page.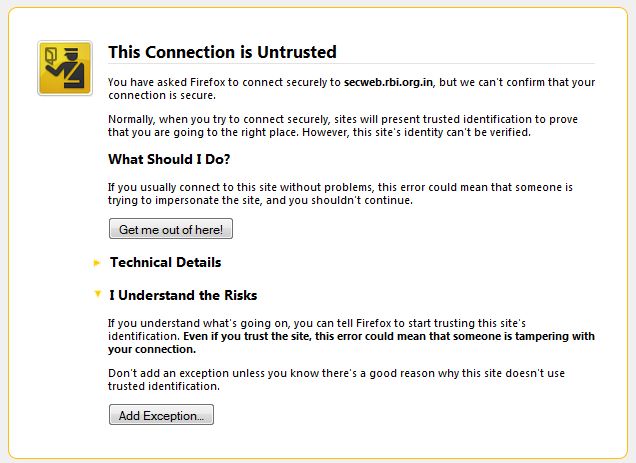 Step-2 : Have you made a written complaint to the bank
I hope your answer is "Yes" otherwise you will be directed to a page when filled will be sent to the Bank and not RBI.
Step-3: If Yes, Whether 30 days are over from ...
Choose the desired option
Step-4: Complaint Check Form
Fill you bank account number, name and mobile here. Then press "check complaints"

Step-5: Annexure 'A'
Slowly fill the details. If you don't have "ATM/Debut/Credit Card Number" then just type "Not Issued"
Your Letter and Proofs
After you press "Save" .. if it is success then on the top right you will be allowed to upload files as PDF and txt extension.
This is confusing.
If you don't attach scanned copy of your letter to the Bank plus copy of Speedpost receipt the your application will be rejected after some 20-25 days.
But the problem is that this RBI form will allow you to upload only single file as PDF or Txt. Don't upload the txt file as it lacks formatting and is difficult to read.
Joining Files into Single PDF
All your files *.rtf, *.docs, *.jpg etc can be combined into one PDF using Adobe Acrobat which offers 1 month trial license free. Otherwise you can search online tools to convert and join into PDF.
So finally you convert and join all your documents into single PDF and upload it there. Keep your letter to Banking Ombudsman in the top.